The Cast of Bat Boy: The Musical
Kim Anderson (Meredith)
is delighted to be back on the Stowe Theatre Guild stage after playing the role of the "Baker's Wife" in last summer's production of Into the Woods. Kim is the Director of Development for the Make-A-Wish Foundation® of Vermont and is currently working towards her M.S.A at Saint Michael's College. She would like to thank the cast and production team for this incredibly fun experience, as well as her family, friends and co-workers who constantly support her theatrical endeavors. Thanks also goes to Kim's neighbor, the Richmond Home Supply, who provided a last-minute hair dryer for her audition. Never a dull moment!
Peter Carlile (Clem)
is thrilled to be participating in his first play with Stowe. He has been very active with school productions appearing as the Beast in Beauty and the Beast, Tony in West Side Story, John Proctor in the Crucible, Wreck in Wonderfultown, as well as many more. Peter is also active in community theater events such as the Haunted Forest and Very Merry Theater. He lives in Burlington and attends Burlington High School. Peter would like to thank his amazing family and wonderful friends for their support. "You truly are: Totally Fabulous"
Nick Caycedo (Bat Boy)
is thrilled to be embracing the American Musical Theatre after a whole semester in London! This semester marks the completion of his third year of BFA Acting training at Ithaca College, leaving him only a year away from the real world... Nick's previous STG productions include: Once on this Island and A Chorus Line. He has also worked with Lyric Theatre and St. Michael's Playhouse. "Thank you, Bat Boy team, for the opportunity to play a part that embraces humanity. Gracias a mi Mami, Papi, Felípe y Larry para su amor increíble. Yo soy un humano afortunado."
Elliott Crowe (Ned)
This is Elliott's first performance with the Stowe Theatre Guild. His last role was in the one-act The Philadelphia at the University of North Florida in 2003. Though he has never seen the Bat Boy, he was frightened by a strange creature last summer on Mount Ethan Allen. Wait, maybe that was a moose.
Roy Cutler (Dr. Parker)
After a brief 25 year hiatus from acting, Roy returned to play Gooper in "Cat On A Hot Tin Roof" with the Essex Players last fall. He is thrilled to be working with such a talented cast and creative team and feels quite honored to have been cast. A life-long musician, Roy plays drums, guitar and sings with several local groups including The Stone Cold Roosters, Jim Branca and The Oleo Romeos. By day he is a biology instructor at the Community College of Vermont and also co-directs the drama program at Browns River Middle School. As always this is for Betsy and Sam, but this time especially, for Anya. May the wind fill your sails.
Emily Day (Mayor Maggie)
graduated with BFA in Vocal Jazz Performance from The NewSchool Jazz and Contemporary Music Program. She can be found locked up in the practice rooms of UVM, St Michael's College, and Johnson State College where she currently teaches voice. Most recently she was Music Director of St. Mike's Main Stage production of "Closer Than Ever" and was last onstage in Stowe Theater's production of "Into the Woods" as Cinderella. She is wildly excited to be working with this cast and crew and would give them all shout-outs had her free speech not been limited by Ms. Erin Evarts.
Julia DiFerdinando (Bud)
Julia is extremely excited to be cast in her second STG show, and she is particularly tickled to be under the direction of her good friends! She has been a supporter of theatre her whole life and is looking forward to continuing her theatre education at UVM next year. She would like to thank her family and friends for all their support and of course the amazing production team for giving her this opportunity.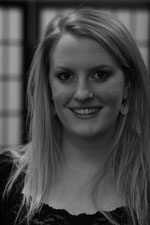 Brittany Flynn (Lorraine)
is a junior at UVM studying English and Theater. She loves the stage and is very excited to be in her third STG production, past experiences include Kate Mullins in Titanic, and the hooker in Little Shop. Thanks to the amazing team of people who brought this show to life and thanks for the support of everyone who came to see the show, especially her fam. She hopes you enjoy her accent! Vinyl.
Kelly Goyette (Reverened Billie Hightower)
is thrilled to be a part of Bat Boy! This production marks Kelly's first with The Stowe Theater Guild. She was last seen as Madame de la Grande Bouche in Lyric'c Beauty and the Beast. Kelly is currently a resident of Williston and a graduate of The American Musical & Dramatic Academy in NYC. She has been involved in several productions (and 1 tour, whoo hoo!) throughout NY and VT. Thanks to her friends and family for their super crazy support and encouragement. Additional thanks to "Coming to America", "Sister Act 2", and Televangelism.....Praise Jesus!!! :)
Kari Grunberg (Shelly)
is extremely excited to return to Stowe Theatre Guild with this fantastic cast, having previously played Bebe in A Chorus Line. She was last seen as a featured dancer in Beauty and the Beast with Lyric Theatre. Favorite roles include Eponine in Les Misérables (CVU Drama), Chava in Fiddler on the Roof (Lyric Theatre), and Gladys in The Pajama Game (WHS Summer Theater). Last summer, Kari completed Circle in the Square's musical theatre program in NYC. As a fresh graduate from Rice Memorial High School, she will pursue a career in musical theatre this fall at the CAP 21 studio of NYU's Tisch School of the Arts. Kari expresses everlasting gratitude to all her friends and teachers including Bill, Alan, Ms. Nolan, Jen, Donna, and Doris, and Mom, Dad, Annie, Elizabeth, and Marz for their constant encouragement over the years. I'll miss everyone in the fall!!!
Kelly Isaac (Daisy)
graduated from South Burlington High School this past June. Next year she will be attending the Savannah College of Art and Design in Savannah, GA. Kelly has been involved in theatre since about 5th grade. Her favorite roles have been in Erma in Anything Goes and Dorothy in Wizard of Oz. During the summer Kelly works with a non-profit children's theatre camp called Very Merry Theatre designing costumes and working with the kids. "This is my first Stowe production and I am very excited!!"
Jeremy Lawyer (Pan)
Jeremy is totally psyched to be working on this show.
Spencer Morrissey (Ron Taylor)
is a freshmen theatre major at Walnut Hill School, in Natick MA. "Acting is what I live for. In my free time I am daning, playing soccer, tennis, or going out for a run. I love acting, singing dancing and all aspects of theatre. I have been in one previous show with STG which was UrineTown, and I hope to do many more!"
Matt Parisi (Rick Taylor)
Matt has appeared in a number of Stowe Theatre Guild productions in the past; including Into the Woods as Prince Charming, Bye Bye Birdie as Conrad Birdie, and A Chorus Line as Mike Costa. He has also been onstage at the Flynn 7 times with Lyric Theatre. Most recently Matt was seen as Singing Silverware and a Wolf in Beauty and the Beast and Riff in West Side Story. Matt is thrilled to be involved with this production of Bat Boy, and thanks the rest of the cast and crew for a great summer.
Jo Sabel Courtney (Mrs. Taylor)
is an emeritus board member of the Stowe Theatre Guild and has performed on the Town Hall Stage in many productions since its inception in 1995. She works at Stowe Area Association as PR and International Marketing Manager and lives in Stowe. Jo is especially happy to be working with this young team of theatrical upstarts—most of whom she's known since they were pups.
Gregory Swain (Sheriff)
This is Gregory's first production with Stowe Theatre Guild, though many of the people involved with the show are familiar to him. In addition to watching many of these talented folks perform over the years, he's also shared the stage with a few. Gregory has dabbled in Vermont community theatre for over a decade, performing with groups such as Lyric Theatre, Catalyst Theatre, and Big Red Barn Players. Most recently, he was seen serenading beautiful young ladies in "This Changes Everything" at Burlington's Waterfront Theatre. Gregory thanks his mother for sparking his interest in the performing arts and thanks fellow alums of the UVM Top Cats for keeping it alive into adulthood.
Audrey Wallace (Roy)
is thrilled to be a part of Bat Boy! This is her second appearance on the Stowe stage, the first as Little Becky Two Shoes in Urinetown. She looks forward to attending Oberlin College next year, and would like to thank her amazing teachers at Spotlight on Dance, along with her ever-supportive friends and family!
Martha Waterman (Ruthie)
is thrilled to be a part of Bat Boy! This is her second appearance on the Stowe stage -- the first as Little Sally in Urinetown. Past performances include Pitti Sing in Hot Mikado, Elsie in The Red House Mystery by Noah Mease, and Lucinda in Into the Woods at CVU. One day, Martha plans to save the rainforest.